Corporate Gift Boxes
Make sure the gifts you send your customers and business partners are making the right impression.
If you've spent a long time establishing your reputation as among the best in the business you want your gifts to reinforce this image.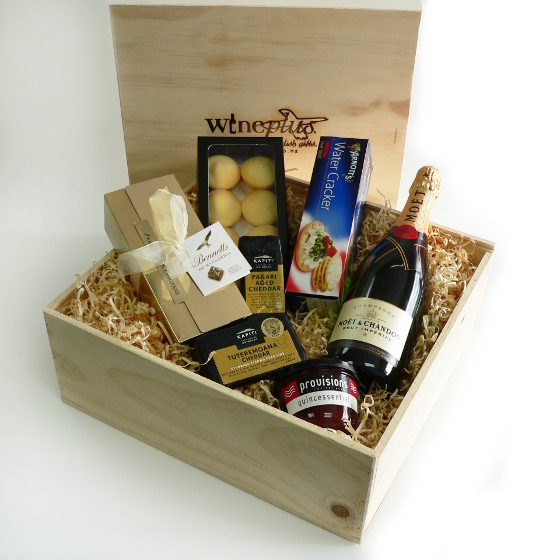 Wineplus gift hampers are a stylish alternative to other corporate gifts. Instead of being 'filed away' in the rubbish bin or given away to other family members, a gift hamper from Wineplus will be enjoyed and remembered by everyone who receives one.
Our hampers showcase the best New Zealand wines and artisan producers and are of the highest quality – so you can be sure you're giving the best.
These distinctive gifts are ideal for:
a special occasion
a thank you
to recognise new business
Personalise your gift boxes with your corporate branding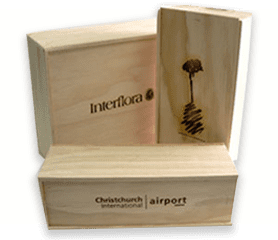 All our gift boxes can be branded with your company logo. You can't do that with a gift basket!
There is a one off cost to create the hot iron for branding. Approximately 3 – 4 weeks lead time is required for branding and production, so please call us to discuss your requirements well in advance.
Save time and money with our professional service
Many organisations are tempted to purchase and pack their own gift hampers in the belief they will save money. However when you add up the cost and time it takes staff to do this, as well as the cost of taking staff away from their usual roles this is often not the case.
Save time and money by letting us do what we do best so your staff can do what they do best.
Customised Boxes
For larger orders we are able to customise our corporate gift boxes to meet your company's requirements. If you have a favourite wine you'd like to send that isn't on our wine list we may be able to source this for you. Similarly, we can mix and match any of our stock items to tailor the contents to your needs.
No Minimum Orders
You can send one box or one hundred  – it's up to you.
"Firstly, just let me say how impressed I am with your gift boxes and their presentation. Our company receives a few at Christmas time and yours is the best one I have seen."
Robyn Marriott – Artworks Landscape Ltd – NZ
quality
We use delicious, local, artisan products and partner them with fine New Zealand wines to create a range of gift boxes that your colleagues will truly appreciate.
choice
With Wineplus you can make your own selection of wine, whisky or port to accompany your gift box, allowing you to tailor this important part of the gift.
presentation
Each gift is beautifully packaged in a wooden gift box, with tasting notes for the wine and your personal message included.